Money Flow at May Tower II
Click on "see chart" to start animation.
SEE CHART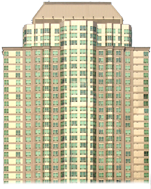 Day-to-day Operations
Management,
Maintenance,
Repairs,
Security,
Other contracts
Reserve Account
Major Repairs

1
2
3
4
5
How does the money flow at May Tower II?
The Source:
The main source of funds is the monthly payment that unit owners pay every month to the corporation through the maintenance fees (condo fees).*
The Operating Account:
This account is currently held at BMO and from here all bills such as hydro, gas, telephone, etc are paid. Our required payments for contracts (security, cleaning, management, etc), payment for regular maintenance and repairs and other day-to-day charges also come from this account. A monthly contribution is transferred from this account to the reserve fund account and to the shared facilities account.
The Shared facilities Account:
The shared facilities fund is fed with contributions from May Tower 1 and May Tower 2 (49% and 51%). The "shared facilities" are managed like a 3rd corporation; with its own operating account, reserve fund account and board (a committee of 2 directors from each tower)
The Reserve Fund Account:
This account holds savings to be used for major repairs not accounted for in the budget. The size of the contribution is determined by the reserve fund study. Contribution to this account is mandatory (established by the Condominium Act)
* Other minor income comes from rental of guest suites, party room, this income goes straight into the shared facilities account.