May Tower II Levels of Government
Scarborough Centre is a federal and provincial electoral district in Ontario, Canada, that has been represented in the Canadian House of Commons since 1979, and in the Legislative Assembly of Ontario since 1999. (Read more)
Click on the maps below to access the government sites with official information about current city councillor, MPP and federal MP.
Municipal Government
Municipality: Toronto
Everything about property taxes can be found in the City of Toronto's Official Website.
Visit the Municipal Property Assessment Corporation to see what your property (individual unit) is valued at.
Provincial Government & Federal Government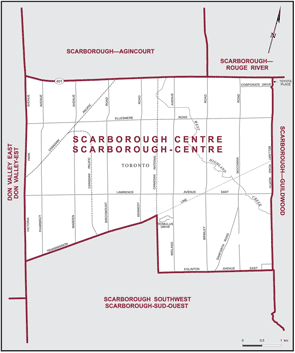 Provincial Riding Information | Federal Riding Information
Commencing at the intersection of Victoria Park Avenue with Highway No. 401; thence easterly along said highway to the northerly production of Toyota Place; thence southerly along said production, Toyota Place, Corporate Drive, Bellamy Road North and its production to Eglinton Avenue East; thence westerly along said avenue to the Canadian National Railway; thence northerly along said railway to the hydroelectric transmission line situated northerly of Romulus Drive; thence southwesterly along said transmission line to Victoria Park Avenue; thence northerly along said avenue to the point of commencement.