Visitors Parking
By James Hanna
One of the recent problems that many of the residents in our community have experienced is visitor parking and Security registration. There have been a lot of misunderstandings regarding parking for visitors and the proper rules for signing in at the Security Desk in addition to some complaints issued from resident owners. This article should help clarify the basic rules for visitors to our building and hopefully prevent further confusion in the future.
Reminder to Residents: please check and review your declaration. All community rules and regulations are contained in our welcome package and should be referenced if you have any questions regarding the proper conduct in our building.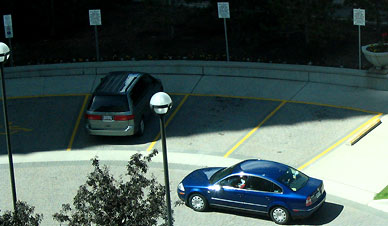 The Basics:
Visitor Registration: All visitors MUST personally sign in at the Security desk. Residents who are expecting visitors can also call down to security to alert them to your expecting company; however, your visitors still must register at the front desk when they arrive. This is a precaution and serves to help keep our community safe.
Visitor Parking: A visitor with a car MUST first obtain a parking permit with Security and it MUST be placed in full view on the dashboard of their vehicle. If a vehicle is parked in a visitor allocated spot with no viable parking pass, then it is well within Security's rights to issue a ticket to the offending visitor. These spots are reserved for visitors only and abuse of these privileges will be enforced to ensure a welcoming environment to our guests.
Resident Parking
Resident Parking: It has been observed that Residents have been parking in spots allocated to visitors. Residents are NOT permitted to park in visitor allocated spots and failure to observe this rule can result in enforcement. These spots are allocated to serve our guests and it serves as an inconvenience when spots are utilized incorrectly.
Should a Resident be interested in renting a parking spot, please consult the notice board located in the mail room for parking spots availability for rent by owners or contact the developer located at 7 Lee Centre.