Scarborough Centre
Places in the Neighbourhood
Scarborough City Centre is a small city centre in Scarborough, Toronto, Ontario, Canada, one of the six municipalities amalgamated into the City of Toronto in 1998. It is roughly bounded by Midland Avenue to the west, Markham Avenue to the east, Ellesmere Road to the south, and Highway 401 on the north.
At its core is the Scarborough Town Centre, a shopping mall with approximately 1.7 million square feet of space, occupied by three anchor retailers, a cineplex and 200 small outlets over two floors including the Famous Players Coliseum Theatres. This mall is the central focus of the city centre, and is connected to a station of the LRT system, which also interfaces with the bus system.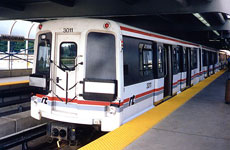 Two other LRT stations, Midland and McCowan, also exist within the bounds of the city centre. To the south of the mall is Scarborough Civic Centre, which was the city hall for Scarborough before amalgamation. Standing between the mall and the civic centre is Albert Campbell Square, a public space named after a former reeve of Scarborough.
Surrounding these central buildings are an assortment of condominium towers, many of them very recent additions to the skyline. The major office towers in the area are those at Consillium Place, which was completed in 1991.
In a band around the southern side of the city centre are densely forested parklands, between Borough Drive and Ellesmere Road. Outside the immediate city centre is mostly industrial parks and low-density housing.
Shopping: Scarborough Town Centre, Winners (Town Centre Plaza), Kennedy Commons
Grocery Stores: Loblaws Superstore, No Frills, FRESHCO, Wal-Mart
Some of the restaurants in the area: Jack Astor's, Mile Stone, Canyon Creek Chophouse, Boston Pizza, Kelsey's, Swiss Chalet, Moxie's, Montana's Cookhouse, La Sani Grill, ThaiOne On, Tangerine
Hospitals: Scarborough General Hospital, Rouge Valley Centenary Hospital
Schools: There are several high schools and post-graduate schools in the area. Please use this Government of Ontario website to locate them.
Community Centres: Centennial Recreation Centre, with indoor pool, tennis courts and skating rink (1967 Ellesmere Road)
Lee Centre Park
As part of the residential growth in Scarborough's Lee Centre neighbourhood, a parcel of land has been preserved for development as a public park. The park is centrally located within the new development and has become a visual focal point from the adjacent residences and an essential open space for the local community. Artists Christian Giroux and Daniel Young were selected through a juried process to develop a design concept for the art component at Lee Centre Park, which was completed in the summer of 2009.
See photos of the opening of Lee Centre Park
For more information read At Play with a Playground - by Dave Leblanc, The Globe and Mail